Are you stuck on what diamond shape to choose for your partner? If you're ordering a custom engagement ring, or simply buying something special to show your partner how much you love them, it can help to match their personality traits to a popular diamond shape.
Diamonds are cut in many fanciful forms including baguettes, pears, squares, emerald cuts and many more. In this article, we'll run you through the more popular diamond shapes and what personality traits they match.
The Round Cut Diamond: For the woman with timeless elegance
Round brilliant diamond personality traits: Traditional, honest, elegant, understated, romantic, bright.
Among all cuts, the most classic is by far the round brilliant. This cut originated from the first century BC and has enduring popularity. A rough stone is transformed into a fiery, scintillating gemstone that has stood the test of time through countless eras of style.
Also called the brilliant cut, the traditional round diamond is the most popular option for a reason. When anyone thinks of diamonds, brilliant cut stones will be the first to mind. If your special someone has a love for classic beauty and tradition, then the round cut is the way to go.
See our round cut diamond engagement rings.
The Princess Cut Diamond: For the ambitious woman
Princess diamond personality traits: Ambitious, clever, creative, outspoken, lively, modern.
Modern diamond shapes like the princess cut are best suited for more modern women. A princess-cut diamond features bold, sharp angles that make it pop amongst other diamonds.
Your partner may love the princess cut diamond if she is a driven and creative woman. She has ambitions and the natural motivation to turn those dreams into a reality. The princess cut is popular among women who think outside the square and carve their own way through life.

See our princess cut diamond engagement rings.
The Pear Shape Diamond: For the hopeless romantic
Pear diamond personality traits:
Sentimental, loving, tender, deeply romantic, outgoing.
The pear-shaped diamond is another more modern cut, imitating the shape of a teardrop. It offers the same stunning brilliance and quality as a round brilliant diamond, but with a more unique and sentimental shape.
Your partner may love the pear-shaped diamond if she is a true romantic. If she gets weepy in romantic movies, puts date night above all else or has plans for a big family, the pear-shaped diamond may be her ideal cut.
See our pear cut diamond engagement rings.
The Oval Shape Diamond: For the sophisticated rebel
Oval diamond personality traits: Sophisticated, unique, independent, innovative.

The oval-shaped diamond has a lot in common with the round brilliant but is made unique in its longer silhouette. It has an understated uniqueness to it that sets it apart from the traditional round cut but still keeps it well within the realm of that timeless beauty.
If your partner has a way of standing out from the crowd, the oval shape may be right for her. This stone shape doesn't scream "I'm different", but states it like a matter of fact, making it the go-to choice for a woman who knows herself well enough to not fall into fads and trends. She knows her own style well and doesn't strive to be unique, but simply does so naturally.
See our oval cut diamond engagement rings.
The Emerald Cut Diamond: For the strong of heart
Emerald diamond personality traits: Resilient, strong, independent, edgy, confident.
The emerald shaped diamond features plenty of straight edges and a stepped architectural design. This tasteful diamond cut is ideal for the woman who knows what she wants out of life and isn't afraid to get it. She is ambitious, but more so she is tough and able to stand up to anything life throws at her.
This stone also has a vintage flair to it, making it popular among those with an affinity for art deco or 1920s aesthetics.
See our emerald cut diamond engagement rings.
The Cushion Cut Diamond: For the old soul
Cushion diamond personality traits: Nostalgic, romantic, fashionable, easy-going.

The cushion cut is a vintage style that is almost a combination of a round brilliant and princess cut diamond. It has a square shape with rounded corners and large facets, creating spectacular brilliance.
Your partner may like the cushion cut if she has a love for vintage clothing or antiques. This timeless style has been popular throughout centuries and has a somewhat more flashy feel to it than the round brilliant.
The cushion cut is perfect for someone who is sentimental and nostalgic, while also being confident in her own unique style.
See our cushion cut diamond engagement rings.
The Marquise Cut Diamond: For the trendsetter
Marquise diamond personality traits: Trendy, original, unique, dramatic, confident.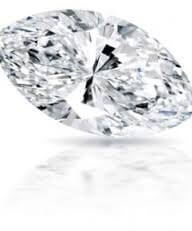 The marquise diamond has an elongated shape that tapers evenly at both ends, giving it the illusion of a larger stone. Its longer form can also make fingers appear longer and slimmer.
This is a notably distinct diamond shape, one that really pops on any ring and on any hand. Your partner may love this diamond shape if she considers herself a trendsetter. This is the stone for someone with unique, contemporary tastes. She isn't afraid to push the limits of today's fashion trends and loves to stand apart from the crowd.
She may have a flair for the dramatic, but that only serves to make her more fun and adventurous.
See our marquise cut diamond engagement rings.
The Heart Shape Diamond: For the most feminine woman
Diamond personality traits: Deeply romantic, emotional, caring, feminine, loving.

As the name suggests, a heart-shaped diamond is cut into a love heart and is the perfect symbol of true love and devotion. This is a great cut for a real girly woman, someone who exudes femininity and is confident in it. She's a hopeless romantic and loves the finer things in life.
She cares deeply, and is an emotional rock for many – but may need a rock of her own sometimes.
See our heart shaped diamond engagement rings.
There are many more shapes to try!
There are many more perfect diamond shapes and cuts available, the above pointers are just an example of the standard shapes available on the market. 
Many engagement diamonds become family heirlooms transcending love for many generations to come.  
Consider the personality and style of your women as this is ultimately a symbol of your love that lasts forever.
What diamond shape should I buy for my partner?
Many men come to us questioning, what shape diamond should I buy? As we love the art of customising each engagement ring to suit the style of each lady, we believe it is critical to first understand their personality and any other attributes which help us choose the perfect diamond that will epitomise them throughout their lifetime.
Our diamond specialists are always intrigued and interested in helping you choose the diamond to best reflect the personality of your loved one. To discover the perfect diamond for your special someone, book a diamond viewing online today.